The highest activity is to bring divine presence into your life. It produces eternal peace. Baba Hari Dass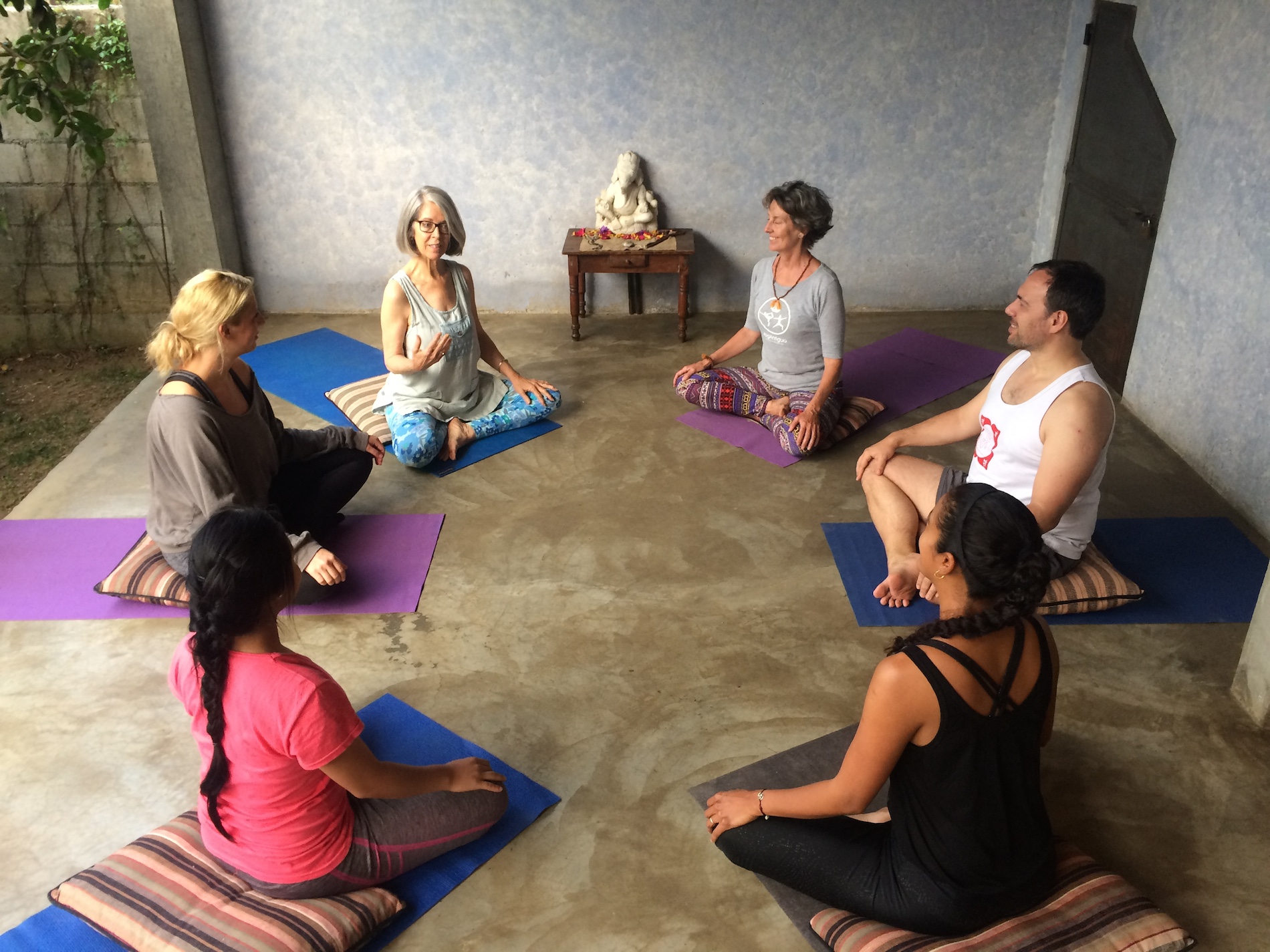 If Ginger is around, you can schedule a class with her at no additional charge.
You can also schedule a private yoga class with Ginger
---
Visit Casa San Juan YouTube channel to find yoga classes online by Yogini Ginger Hooven (Kamalesh) in English and Spanish.
Yoga is for everyone and every body. In the West, yoga has become synonymous with the postures (asana). Yoga is much more than that. The purpose of yoga, as noted by the sage Patanjali in the Yoga Sutras, is to still the mind. We still the mind to get in touch with our true nature, a reflection of the Divine. Yoga is presented as a knowledge-based, practical system of practice.
There are Eight Limbs (ashtanga) as laid out in this system of Raj Yoga:
Yama disciplines
Niyama observances
Asana postures
Pranayamabreath control
Pratyharawithdrawal of the senses
Dharana concentration
Dhyana meditation
Samadhi transcendental consciousness
Ginger, in her teachings, touches on all the limbs of yoga. Her group yoga classes include much more than a simple group of poses. She tailors the class to who is present and gives options to maximize the benefits of a pose or a practice. She always includes some philosophy behind the poses and explains what benefit they bring to the mind/body complex. She makes the class relevant to daily life. In individual sessions, Ginger uses her knowledge of Ayurveda and tailors the class to one's particular needs. Since Ginger still teaches yoga at Mount Madonna Institute, there are yoga classes only when she is in Guatemala.
A person can attain peace by simply developing good qualities. – Baba Hari Dass
Personal Retreats
Unplug, unwind, put everything aside and focus on you. Come to this intimate setting and use the energy of Guatemala to inspire you to rest and renew, write a book or complete a project.
Investing in yourself is a rewarding experience.
We bring the vibrancy of the wellness scene to the peaceful and natural environments of San Juan del Obispo, and create in you an inner peace.
---
For your personal retreat
3 nights in one of our unique rooms or lofts
1 morning yoga session (pranayama, meditation, asana)
Private yoga classes or massages available at an additional cost
Use of all seating and lounge areas, outside and in the main house
Fast, reliable wifi in the main house and outdoor patios
Assistance in coordinating transportation & day-trips/tours
24-hour self service tea and fruit bar, local coffee, and unlimited purified drinking water
Our food is prepared fresh every day, with love and consideration. We use as much local, organic produce as possible
We will accommodate your dietary requirements (gluten-free, dairy-free, vegan, and vegetarian options available)
Laundry service available. $1 per pound
Daily cleaning service included
Airport transportation available
Three Days (inclusive):
Single with bath: $250
Shared accommodations with bath: $190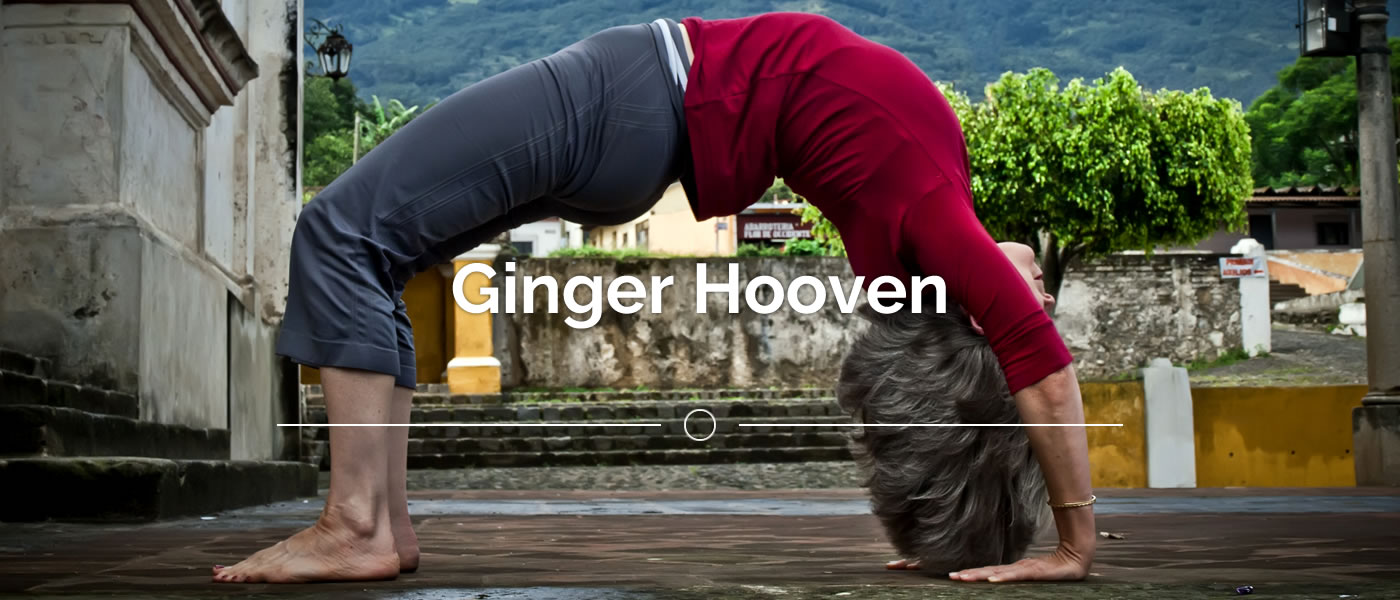 Ginger Kamalesh Hooven
E-RYT 500, YACEP (Yoga Alliance) ; Ayurvedic Yoga Therapist (C-IAYT); Ayurveda Practitioner (National Ayurveda Medical Association)
2000 Ginger opened yogAntigua, the first yoga studio in La Antigua Guatemala
2002-2004 Ginger completed a 700 hour Yoga Teacher Training with Georg Feuerstein (Yoga Research and Education Center) at Mount Madonna Center in California.
2002 She began her studies with Master Yogi, Baba Hari Dass while a resident at the intentional community/yoga ashram, Mount Madonna Center. www.mountmadonna.org
2004 – present Ginger is coordinator and teacher in the Mount Madonna Center and Institute's Yoga Teacher Training program at the 300 hour level and Program Director of the Yoga Therapy program.
2009 – Ginger is Instructor of yoga in the Mount Madonna Institute's College of Ayurveda . Since 2011 she serves on the Curriculum Committee and the Board of Directors since 2014. www.mountmadonna.institute.org
2009 -Certified Ayurvedic Lifestyle Counselor (NAMA approved) 2011 – Certified Ayurvedic Practitioner (NAMA approved) o2016 – Ginger earned a Master's Degree in Ayurveda from the Mount Madonna Institute.
---
You can schedule a personal yoga class with Ginger or bring a group for a weekend workshop in Antigua Guatemala / San Juan del Obispo. Ginger gives three to five day workshops in the following areas:
The Basics of Yoga
The Art of Adjustment
The Subtle (energetic) Body Effects of Yoga
Thread Ayurvedic Principles into Your Yoga Practice
An Eye to Assessment
Pranayama - Working with the Breath
Find Balance in Your Life with Yoga and Ayurveda
Relax, Rejuvenate and Renew
The Yoga Sutras of Patanjali
Samkhya Philosophy and its Impact on Yoga and Ayurveda
Cooking and Eating Ayurvedically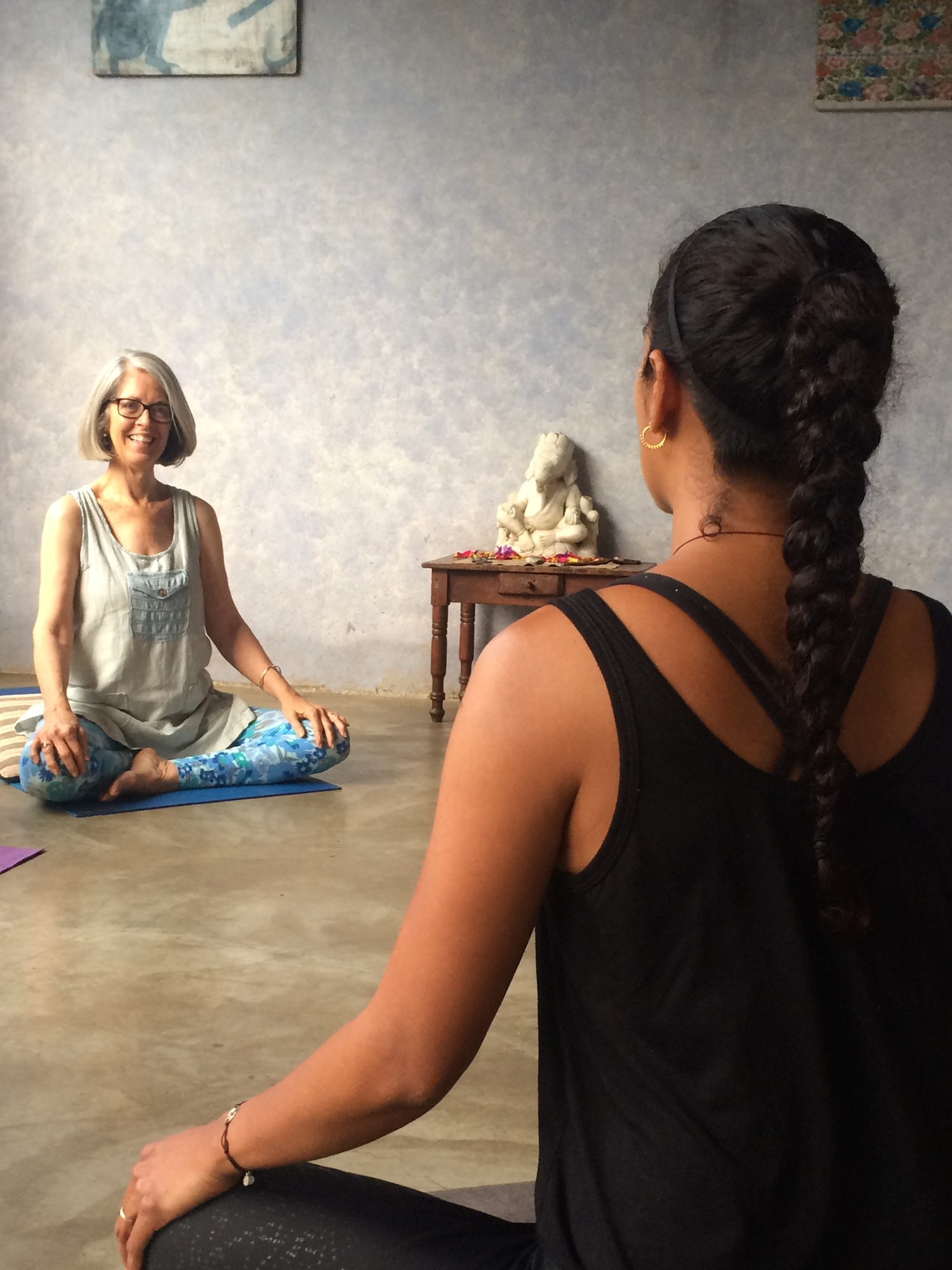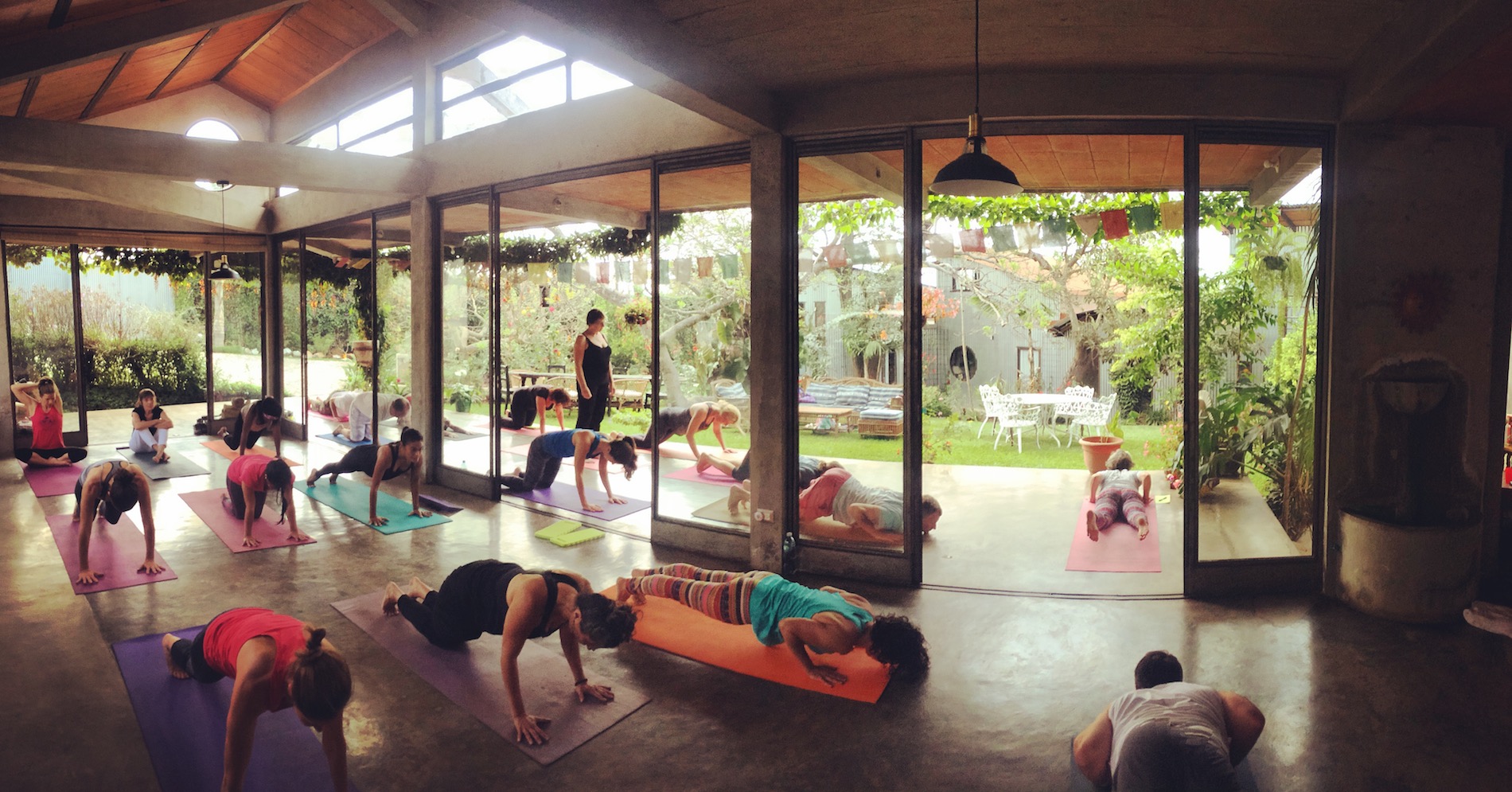 The large glass walled room is surrounded by lush gardens that create a sense of tranquility to assist in finding that space of ease in your body, breath, and mind. Asana props are provided for use. If Ginger is in town (Antigua Guatemala), she will lead a morning meditation and/or asana (postures) class should you so desire.
If you would like to DONATE for the free class, there is a donation box for Namaste Direct, a local non-profit project which empowers and educates womento be self-reliant. (Namaste Direct).
If you walk on the wrong road, you cannot reach the right place. – Baba Hari Dass
Yoga in Antigua Guatemala (video in Spanish)
Invitación a Casa San Juan por Yoga Clases

---
Yoga in Antigua Guatemala (video in English)
Yoga community in Antigua Guatemala